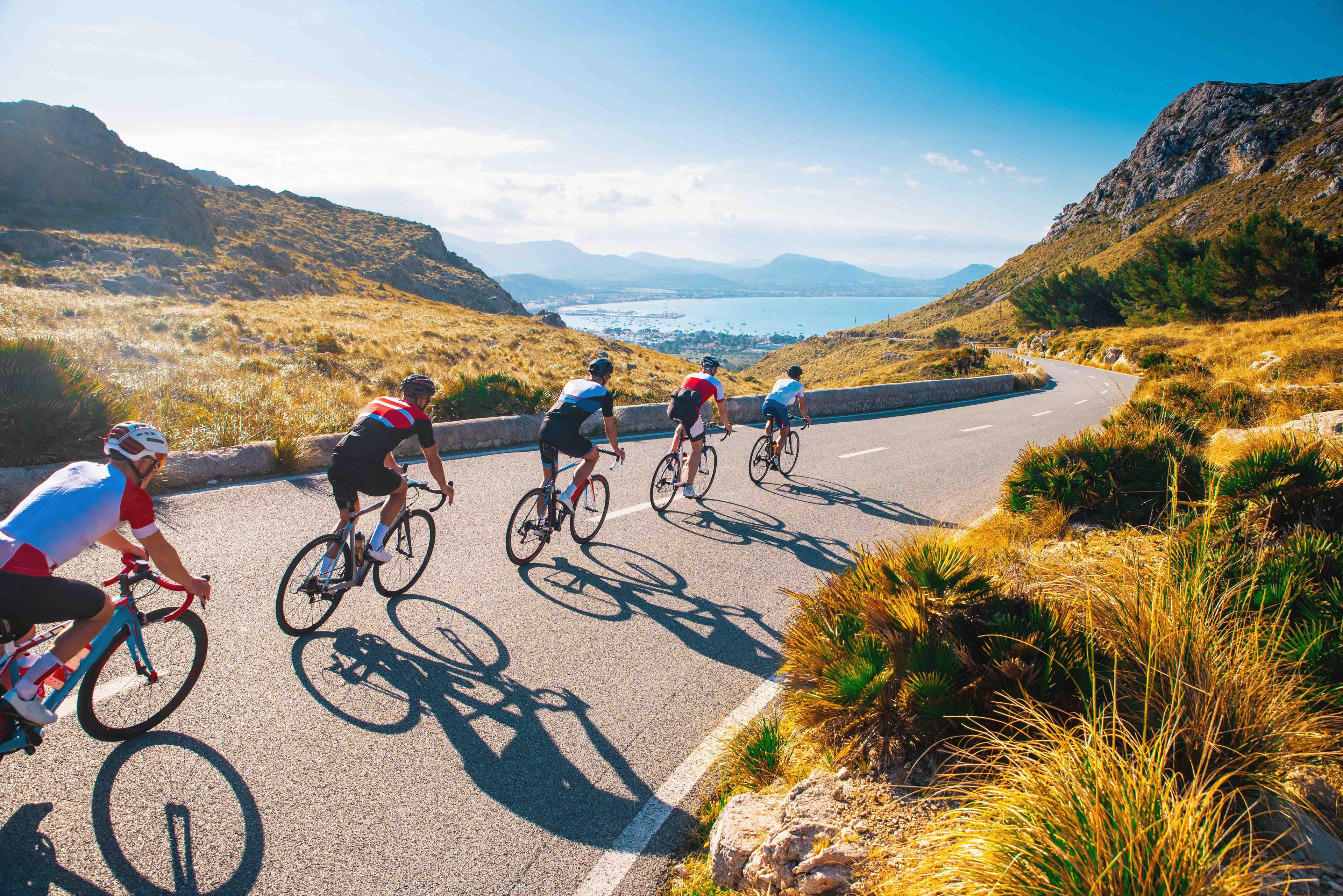 Planning your Marbella cycling?
Read about our favourite routes and more...
Marbella's best "quickies" – When you want a short cycling route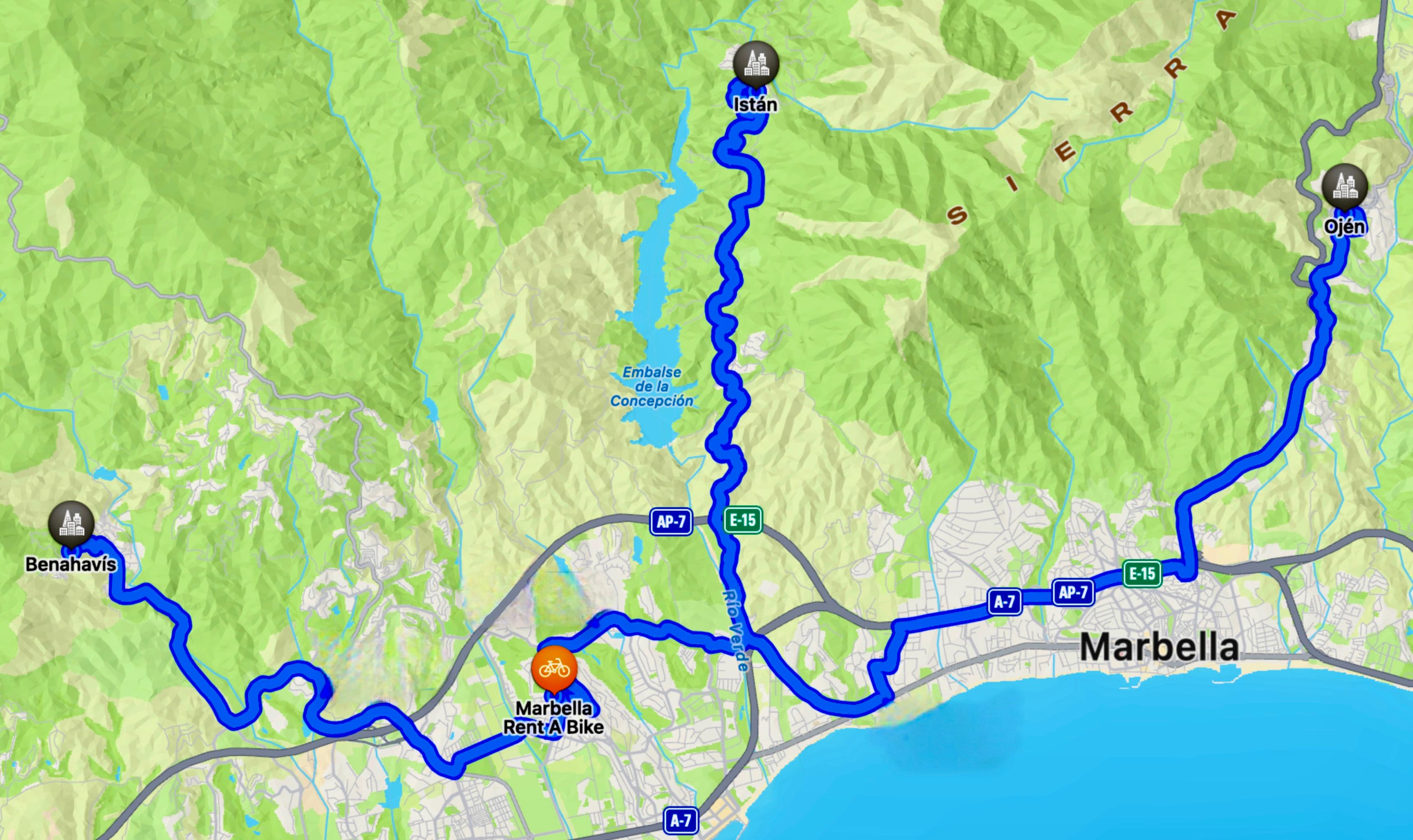 As a road cyclist you want to be on your road bike as much as possible, enjoying the wind in your face and the amazing views that this coast has to offer. But we all know that this is not always practical or even possible. Here we have outlined 3 of our favorite quick routes near Marbella, for those days when you just don't have the time to do long ride, but you must get some bike time.
Benahavis (25Km return – starting from Marbella Rent a Bike Shop)
Benahavís is surrounded by lush, mountainous terrain, offering panoramic views of the Guadalmina River, Mediterranean Sea, and the Sierra de las Nieves mountain range. It is a tranquil and picturesque Little village famous for its culinary scene. It boasts a high concentration of gourmet restaurants, earning it the title "Gastronomic Corner of the Costa del Sol."
The ride to Benahavis is a joy. You have short steep hills that test your condition, followed by descents that give you a respite. Once you are off the Ronda Road, the route is fairly quiet with not many cars which is why this is one of my personal favorite routes. Once you come down the hill from El Higueral Golf, at the roundabout you have a choice to make…turn right and continue the short quick, enjoyable ride or go straight, giving your legs a challenge, cycling towards the Villa Padierna Hotel on a 15% climb! Whichever you choose, you will love it.
Whether you do this ride alone or with friends, make sure to take the time and stop for a quick coffee in town before heading back.
Extra tip: not cycling but eating related! Benahavís is renowned for its culinary delights, particularly game meats and traditional Andalusian dishes. Some local specialties include "sopa de almendras" (almond soup), "rabo de toro" (oxtail stew), and "cordero a la miel" (honey glazed lamb).
Istán (35Km return - starting from Marbella Rent a Bike Shop)
If you have ever cycled on around Marbella or asked any of the residents about a "have to do" ride, then you know that the answer is always Istán. Istán is known for its scenic beauty, characterized by lush forests, cascading rivers, and a picturesque lake, Embalse de la Concepción, which adds to the area's allure. The proximity to the Sierra de las Nieves Natural Park also makes it an excellent starting point for exploring the natural wonders of the region.
The first and second climb on this route are the hardest and not for the faint hearted. The climb under the Highway bridge is about 12% (it's a short climb though) and the second one around 10%. After that it's smooth cycling where you can take in the amazing views and work on fine tuning your riding skills. Once in Istán, you have choices…and who doesn't love a route with choices! You can turn right for a last steep climb towards the hotel and the football pitch; you can follow the road and have a nice coffee in the square by the church and take in the views; or if pressed for time, just turn around!
The descent, if you allow it, provides a thrilling and fast-paced ride, giving you a chance to recover before you hit a couple of short climbs back to the shop.
Ojén (40km return – starting from Marbella Rent a Bike Shop)
Ojén is renowned for its stunning natural surroundings. Surrounded by lush mountains and forests of pine, cork and oak trees, the village offers breathtaking panoramic views of the Mediterranean coastline.Ojén is characterized by narrow, winding streets, white-washed buildings, and charming squares adorned with colorful flowerpots. The traditional Andalusian architecture reflects its Moorish influence and rural charm.
We go there for the amazing training that the climb to Ojén offers (15%) in some sections and for the churros! Also, climbing out of Ojén has its own set of challenges as you go through what the locals call "Los Caracoles" (the Snails) indicating the winding and twisting nature of the road as it ascends into the mountains. Los Caracoles is about 10Km of hard climbing where you gain 700m elevation. The gradient on this route is challenging, falling within the steep to very steep categories.
We hope you enjoy these quickies as much as we do! 😉
You can rent a high-quality road bike from www.marbellarentabike.com
In the shop our experienced employees can also give you tips and tricks for other routes, recommend nutrition and you can even buy basic clothing.